Rh Negative Facts & Fiction
Welcome to the Rh- Facts & Fiction page!
We hope you will enjoy browsing through all of the information we have found and made available for you. Please note: We do not necessarily sanction, endorse or believe every viewpoint, story or opinion presented on this website. However, we strongly feel that the first step to educating ones self, is to have access to a multitude of information.
If you feel you have a medical condition, please contact a Licensed Physician. Although we've attempted to make available to you, in one place all of the information we've located online, it is meant only to be used for educational and/or personal interest and research purposes. We must advise that this website is in no way affiliated with any medical professional, location or provider.
You are invited however, to take an active part in this network by either by becoming a
Community Member
and/or by joining us in the Rh-Negative Connection Public Forum. Educate yourself, ask questions and share your knowledge, stories and opinions with each other!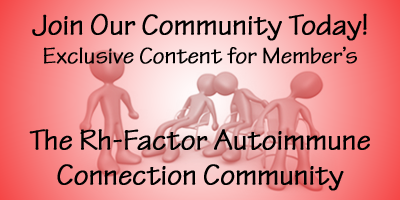 According to the Japanese...
What Does Your Blood Type Reveal About Your Personality?
According to a Japanese institute that does research on blood types, there are certain personality traits that seem to match up with certain blood types. How do you rate?
Type O
You want to be a leader, and when you see something you want, you keep striving until you achieve your goal. You are a trend-setter, loyal, passionate, and self-confident. Your weaknesses include vanity and jealously and a tendency to be too competitive.
Type A
You like harmony, peace and organization. You work well with others, and are sensitive, patient and affectionate. Among your weaknesses are stubbornness and an inability to relax.
Type B
You're a rugged individualist, who's straight forward and like to do things your own way. Creative and flexible, you adapt easily to any situation. But your insistence on being independent can sometimes go too far and become a weakness.
Type AB
Cool and controlled, you're generally well liked and always put people at ease. You're a natural entertainer who's tactful and fair. But you're standoffish, blunt, and have difficulty making decisions.
Blame it on my blood, says Japan politician....
(
Reuters) - Forced to quit after barely a week as Japan's reconstruction minister for remarks deemed offensive to victims of the March earthquake and tsunami, Ryu Matsumoto had an unusual explanation for his behavior -- his blood type. "My blood's type B, which means I can be irritable and impetuous, and my intentions don't always come across," he said Tuesday after his resignation.
Read full article,
click here. >
What is Panda Blood?

Rh-negative (A) blood type, is called "Panda Blood" by the Chinese people, because of its extreme scarcity, like the Panda. Among the majority Han ethnic population, only 3 out of every 1,000 have Rh-negative blood, and even fewer are A type (Rh-).
Type O – The Warrior

trendsetter

loyal

passionate

self-confident

independent

ambitious

vain

jealous

Famous O's

Queen Elizabeth II

John Lennon

Elvis Presley

Liam & Noel Gallagher

Paul Newman

Type A – The Farmer

calm

patient

sensitive

responsible

overcautious

stubborn

unable to relax

Famous A's

George Bush Senior

Soseki Natsume

Ringo Starr

Britney Spears

Type B –The Hunter

individualist

dislike custom

strong

optimistic

creative

flexible

wild

unpredictable

Famous B's

Akira Kurosawa

Paul McCartney

Mia Farrow

Leonardo Di Caprio

Jack Nicholson

Type AB – The Humanist

cool

controlled

rational

sociable

popular

critical

sometimes standoffish

indecisive

Famous AB's

Jackie Chan

Marilyn Monroe

John F Kennedy

Mick Jagger

Alain Prost
See More Famous Rh-Negative Celebrities, click here. >


New research shows that people with blue eyes have a single, common ancestor.

According to a research team at the University of Copenhagen, they have tracked down a genetic mutation which they say took place 6-10,000 years ago and is the cause of the eye colour of all blue-eyed humans alive on the planet today.
"Originally, we all had brown eyes", said Professor Eiberg from the Department of Cellular and Molecular Medicine. "But a genetic mutation affecting the OCA2 gene in our chromosomes resulted in the creation of a "switch", which literally "turned off" the ability to produce brown eyes". The OCA2 gene codes for the so-called P protein, which is involved in the production of melanin, the pigment that gives colour to our hair, eyes and skin. The "switch", which is located in the gene adjacent to OCA2 does not, however, turn off the gene entirely, but rather limits its action to reducing the production of melanin in the iris – effectively "diluting" brown eyes to blue.
Variation in the colour of the eyes from brown to green can all be explained by the amount of melanin in the iris, but blue-eyed individuals only have a small degree of variation in the amount of melanin in their eyes. To read the full article,
click here.
If You Are Blood Type A
General Overview: Skin tightens, and when the skin is tense, it can cause fine lines to form. By keeping yourself warm, you can have younger, healthier-looking skin. Olive oil is the type of base oil preferred for use in Type A's make-up. Reduce use of too many chemical ingredients as well, they cause your skin stress. Use a light-coverage, breathable, foundation and not too much. Type A's don't sweat a whole lot, nor have issues with shininess. The pores on your face are small. Pay attention to foundation color. When you lack sleep or when skin is dark and dull, use a brightening, illuminating foundation. The moisture content within the lens of A's eyes is comparatively higher than other types, emphasize your eye make-up to give you the enchanting eyes of a goddess.

If You Are Blood Type B
General Overview: B's skin tone is usually relatively shallow and the skin cuticle is thinner, so the state of the skin changes like moods. Your skin is of the sensitive type; the slightest change, can cause you irritation. Use a mildly acidic cleanser because your skin might produce more oil. Avoid alkali cleansing milks will often irritate the skin's surface, making it prone to outbreaks & inflammation. Gentle exfoliating scrubs will make your skin fine, smoother, and glowing. Use gold tones to brighten your face color. When you apply base color, blend a buildable highlighting powder with your liquid foundation, creating a brilliant pearly finish. For the cheeks, blend liquid blush with highlighter to create a beautiful, glowing, rosy tint. Shimmery brown shadows harmonize well with a gold mascara, resulting in a beautiful effect that will draw all eyes to you in any crowd.

If You Are Blood Type AB
General Overview: The AB's skin's ability to protect itself from the sun is relatively good, but the rate that the skin ages can also appear faster. AB's belong to the mucus type, so their "qi" (or blood circulation/energy flow) is not always good, so the likelihood of anemia or other such ailments occurring is high. Minimize the use of tap water to wash your face, it tends to be hard water, lacks beneficial minerals, and contains impurities that easily causing your skin to age. Mineral spring water is the best choice. Apply egg whites to your face, they contain precious nutritional content and replenishes nutritional substances. It also promotes the red blood cells' ability to absorb oxygen. Apply egg whites for about one minute; no longer or it will pull the moisture from your skin's cells& dry out your skin. Use concealer correctly. If you have pimples on the surface of your face, lightly applying a concealer pen, using your fingertips to pat it in, and not too thickly. For swollen pimples, choosing a green-based color concealer is most effective. Don't use concealer on inflamed or open pimples, not only will you not be able to properly conceal it, but you'll also allow it to become infected with bacteria.
If you are blood type O:
General Overview: Type Os, and they generally have better body strength and skin with an impressive ability to withstand the cold. For people with blood type O, getting sleep is extremely important. The skin's ability to restore itself is at it's greatest between 2 – 3am in the morning and 1 – 2pm in the afternoon. For blood type Os, avoid foam cleansers, the skin already releases a lot of oil and sweat, and using a foaming cleanser will bring about more oil and moisture making your skin taut so far as to dry it out. Use a highlighting pen to accent your features: O's often have bigger builds and more prominent features. Use pen-style highlighting product to make your 3D features stand out, attracting more attention. When using a highlighter, try drawing a line along the bridge of your nose, then use to your fingertips to tap evenly tap it in. Under light, your nose will look even more pronounced. Don't apply on the tip of your nose, otherwise you'll make your nostrils look massive. It can be also be used between your eyebrows, underneath your eyes, in the center of your cheeks, and below, etc.
Read Full Article, click here.>